State Bank of Victoria Retired Officers' Club Inc (SBVROC)
History of Club – Club was incorporated in 1986
Click here to read a brief history of the SBVROC.
| | | |
| --- | --- | --- |
| | Office Bearer | Telephone |
| President | Barry Gust | 03 9802 1478 |
| Vice President | Steve Mason | 03 9882 6735 |
| Secretary | Ross Bardrick | 03 9874 7107 |
| Treasurer | Frank Salter | 03 9874 0035 |
| Editor of Newsletter | Steve Mason | 03 9882 6735 |
| Email Enquiries: | Ross Bardrick | 03 9874 7107 |
Club Membership Enquiries Club Membership is available to former State Bank of Victoria employees who served in the Bank for a period of 10 years. Membership is charged on a "financial year basis" and the  annual fee is  currently $10. Members receive a copy of the Club Newsletter in February; May; August & November. Membership enquiries can be made by email or telephone Ross Bardrick –  03 9874 7107.
Click here to download a Membership Application
Statement of Purposes
The name of the incorporated association is "The State Bank of Victoria Retired Officers' Club Incorporated".
The purposes for which the  incorporated Association was established are:-
to organise the means and the opportunity for retired officers of the State Bank of Victoria to meet regularly for social purposes;
to represent the members of the Association and to pursue their interests in any matters of concern to them;
to keep members informed, by means of a Newsletter, of the business transacted by the Club at its general meetings and of news of the activities of individual members which may be of general interest to many of their colleagues;
to organize social functions and tours, both within Australia and overseas for members, their families and friends, if and when they so desire, and when such can be arranged on favourable terms available for group bookings;
to raise funds for public charitable organizations when so approved at a general meeting and to disperse such funds, to such charitable organizations as the members may direct at a general meeting.
Constitution
A copy of the Club's constitution can be made available if required.
SBVROC Newsletters
The SBVROC Newsletter is the "lifeblood of the Club" Newsletters are mailed to members in February; May; August & November each year. Our Editor, Steve Mason is always keen to receive items of interest to members for inclusion in the newsletter. Steve is the Club's greatest asset and produces a very professional newsletter, with the help of his dedicated team of volunteer members. Steve's contact details are provided on the Office Bearers page. A "sample" Newsletter can be made available to prospective members.
General Meetings
The Club holds Meetings on the 1st Monday of March; June and September each year.
The time and venue for the Meetings is advertised in the SBVROC Newsletters.
Club Meeting Dates for 2020 are as follows:-
General meeting – 2 March 2020 – Mezzanine Floor, CBA -385 Bourke Street, Melbourne

General meeting – TBA   -Mezzanine Floor, CBA – 385 Bourke Street, Melbourne

AGM –  TBA  – Venue to be advised.
Social Calendar 2019
************************************************************************
Wanted – photos of SBV branch premises
The SBVROC Archives collection of SBV memorabilia contains a large range of stationery, Annual Reports, Progress and Statesman magazines, as well as marketing and branch items of all shapes and sizes.
We also have many photos of SBV Staff College Groups. But what we do not have are photographs of our old State Bank Branches! Therefore, we have embarked upon a project to build up a collection of photographs of our old State Bank Branches, but we need your help!
There is a State Bank of Victoria 'Facebook' page upon which a number of people have contributed more than 150 individual photographs of branch premises. These photos make a great start for the collection and we thank those people for their contribution. However, to add to this collection we need you to dig through your treasures to find photos, slides, as well as newspaper or magazine pictures of our old State Bank Victoria Branches. Ross Bardrick is collating these photos and there are several ways in which you can help him to handle this task:
Photos can be digitised (by copying or scanning – if scanning, it is preferable to do so at a minimum of 300 DPI and to size the image at  least 1800 by 1200 pixels) so that the digitised image can be emailed to Ross. Do not forget to identify the branch name and provide some idea of the year of the photo. If you need technical help with scanning photos please contact Ross via email or telephone.
You can have a copy made of your photograph or picture, identify it as detailed above, and mail it to Ross Bardrick.
You can mail your photo or picture to Ross, whereupon he will arrange to copy your photo or picture and promptly return the original to you.
If you live in country Victoria you may be able to obtain a photograph through the Local Historical Society. That would be of great help to us.
You can stop and take a photo of what you know was a State Bank Branch and send it to us. It doesn't matter if it is now a CBA branch, a cafe, hardware store or whatever.
We hope you can help us. Reports will regularly appear in the Newsletter on your response to this request to contribute photos to the Branch Premises Photo Album project. Ross Bardrick will be pleased to answer any questions you may have on this project. Ross can be contacted as follows: Email: Ross Bardrick Phone: (03) 9874 7107 Post: Ross Bardrick, 12 Elizabeth Court, Donvale VIC 3111
State Bank of Victoria Retired Officers Club Past Presidents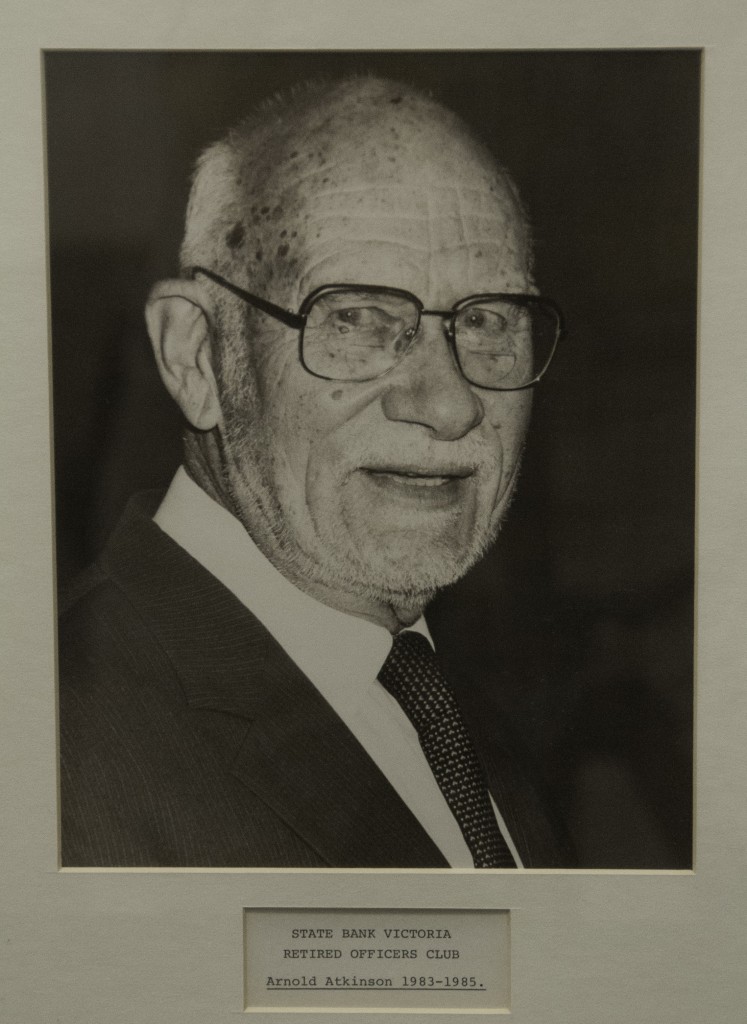 Arnold Atkinson 1983-85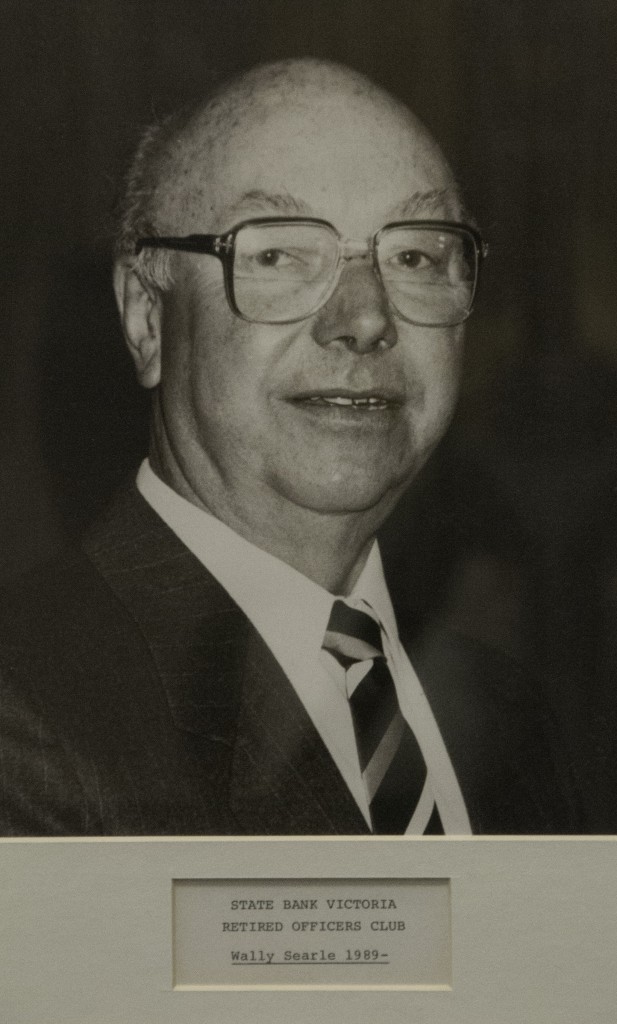 Wally Searle 1989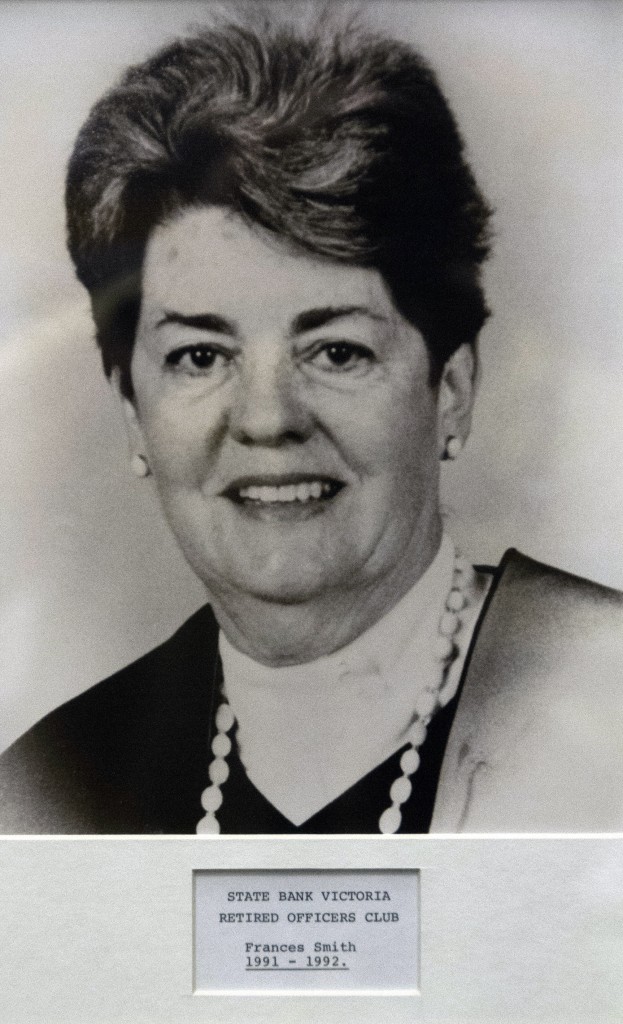 Former SBV staff are invited to subscribe to our mailing list.
Your details will only be used to keep you informed about upcoming SBV events.