This Staff Anecdotes section has been created so that we can all share our fondest memories of former workmates.
As you see, we have a few here already. We need more.
Obviously we have to be careful how we go about it; whether we actually identify someone or hint at their identity; depending on the content of the tale. You'll know what we mean.
It will be a great opportunity for people to remember old workmates and State Bank identities; the heads will be nodding; "yes, I remember that!"
Don't just talk about this over dinner or in the pub, get the keyboard or pen working and send your stories to Peter Wynd.
Quote Attributed to Ray Bonner
30 days hath April, June, September and no wonder, all the rest have 31 except Grandma , she rides a bike.
Relieving Staff; Ken Castanelli recalls reliving at Corryong
In October 1965 I ventured to Corryong to relieve Tom Crothers for three weeks.
Corryong is situated some 380 kilometres from Melbourne in north east Victoria. With a population of around one thousand, the town is surrounded by hills, set amid lush green countryside, is the gateway to the Snowy Hydro Power Station and the resting place of "The Man from Snowy River".
Our branch, a two-man affair, was at the top end of town on a corner block, with a separate three-bedroom residence at the rear. Ralph Rowan was the manager. Ralph and his wife Betty and their two young daughters occupied the fairly new country branch and residence.
Sometimes when Betty went shopping their four-year-old daughter would join us in the branch. She would plonk herself on the foot rail beneath the tellers desk and whilst you were serving customers she would be untying your shoes laces. Ralph was very popular with the towns people and often enjoyed a beer at either of the town's two watering holes. He had conjured this arrangement with Betty, that after visiting one pub one day, then he was obliged to visit the other pub the next day. Something about good public relations said Ralph.
I boarded at Eric Mugeli's hotel/motel also situated at the top end of town. Eric's son Barry played a few games with Collingwood in the 1960s. Six o'clock closing was still the go at the time and the pub was a popular venue for hosting dinners for the local clubs and various employee groups. On these occasions you were sometimes called on to wait on tables and help clean up in the kitchen afterwards. Often you ate meals with the family, or depending on what was happening at the time, helped yourself to whatever was available in the kitchen.
On Sundays, Ansett had a regular flight from Melbourne to Corryong, whereby the crew stayed overnight at the hotel. On these occasions you found yourself involved in a card game lasting well into the early hours of Monday morning.
One Friday a bloke flew into town in his little four-seater Cessna. I caught up with him at breakfast the next day where he offered to take me up on a sightseeing flight over the Snowy Mountains that afternoon. He also agreed that Ralph could join us if he wished. Ralph quickly cancelled himself out from his golf and bowls. The day was a glorious spring day, with clear blue skies in complete contrast to the white snow and colorful red rooftops on the ground below. Not to mention the sight of lake Eucumbene in all its glory. On returning, Ralph pointed out the bowls club below. Our pilot responded by sweeping low over the club rooms a few times before landing.
The next week a front-page article appeared in the local paper referring to the stupid antics by a pilot on Saturday afternoon swooping low over the town's bowling club. Of course, it soon became common knowledge that one of the passengers was none other than the local bank manager. Naturally Betty was not overly impressed.
On another weekend Ralph and I were part of a fishing expedition to Tantangara Dam (known as the fisherman's playground). The two-day trip was organised by Jack Hobbs, a local business man. Jack ran either the hardware store or local supermarket or both. As a city slicker, with very little success with fishing off the Frankston pier, I was in awe of the many brown and rainbow trout that were taken.
During my stay the District Manager Jack Rush visited the branch. Later on, I was surprised to hear from the publican that he had called into the hotel to inquire as to how the relieving fellow from the State Savings Bank was behaving himself. The publican told me he was used to this sort of thing and was always prepared for the "constabulary" as he called them.
When catching up with Ralph years later we would reminisce about my trip to Corryong.
I spent seven years on the relieving staff as a young single bloke and thanks to Dasher Jeffery and John Hicks enjoyed immensely my many country trips.
The Relieving Staff Christmas Party
After another big night at The Relieving Staff Christmas party, Watto stopped his car at the Ormond railway gates on North Road. He woke up some time later to find the gates still closed. He was stopped in front of the picket fence at the side of the crossing.
A very well known identity, sometimes known as "Noddy", had been to the Relieving Staff Christmas party. As he was prone to nod off on the way home, he insisted that he'd stand in spite of the carriage being almost empty. His fellow traveler reported that he was asleep before they reached Richmond.
Another well known and popular Bank identity, known for his sharp wit and ability to get into and out of difficult situations, parked his car at Carnegie station and caught the train into the Christmas party at South Yarra. He later caught the train home and woke up at Dandenong. The next year he parked at Dandenong so had that possibility covered. He woke up at Frankston.
Murray Anderson recalls the Elizabeth Street Floods
I've forgotten the date it occurred, but I had just finished on early shift in Elizabeth Street and had taken the cash tin down to the strong room. On coming back up the banking chamber I noticed it had started to rain quite heavily, and not wanting to get wet decided to wait it out. The rain, however, had different ideas and got heavier and heavier by the minute, reaching torrential levels the likes of which I had never experienced.
Very quickly the gutters were overflowing and then Elizabeth Street itself started flooding. As the volume of water increased, cars that were parked outside the bank were pushed back a considerable distance, and through the force of water one or two ended up on the footpath. Then a Volkswagen sedan was trying to make its way against the flow of water which was heading towards Flinders Street, got as far as the bank, was picked up by the water and was last seen heading back down Flinders Street closely followed by a park bench travelling at speed towards the Volksy.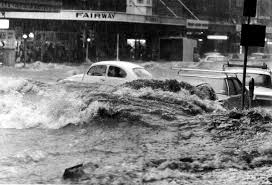 While all this was happening the lights in the 001 banking chamber started going out quite freely which, if I remember correctly stopped any further work activity at 001.
No one was able to get to Flinders Street Station for some time and when we did the subway access was completely flooded, leaving no option but to "retire" to the London Hotel and wait for any news re transport home. Needless to say, a few of us were in trouble when we eventually made it home and totally not believed when the reason for our lateness was revealed.
Alan (Wizza) Guy
In early 2016 Alan (Wizza) Guy was nominated for an OAM. This was after he had
developed his final illness. Unfortunately the submission was not successful. Click here to read the submission.
Ian Reade remembers Ned (John) Kelly
Ned was in the market to purchase a car, he had walked passed a car yard several times looking at a car in the front. Weekend came so he returned and went in. Car was gone.  Car salesman explained it had been sold yesterday. Ned said bugger, looked around, pointed at a car in the corner and said alright I will take that one.
Not sure if it was that car, but Ned was driving to footy training down King Street in the city. Stopped at a red light, light turned green, he put the car in gear, put his foot down and reversed straight into the car behind him. After exchanging details etc. Ned got back in to his car and waited for green light. Light changed and Ned went through same procedure again.  Put the car in reverse again and crashed in to car behind for second time.
Again not sure if it was same car, but we were playing Geelong at Geelong and Ned was driving couple of team mates down (silly buggers.) I think Casta was one of them.
About 15 minutes before game was to start they arrived standing up in the back of a Tatty old Market garden truck.
About Werribee, Ned's car's water boiled and water spewed all over windscreen. Ned turned wind screen wipers on and kept driving, but not for long,
Market garden bloke saw their predicament and drove them to the ground.
The following are some that Tom Shanley has entertained us with, and many more, at our lunches:
Lay Chun South Melbourne Branch 1960's – Buckley and Nunn had a Shoe Sale advertised in the Sun and as Lay had an account with them he was quickly onto this. He rang them and ordered a pair to be delivered to the State Savings Bank South Melbourne. The delivery duly arrived while Lay was out collecting Special Savings. Brian Ganster had an old pair of shoes in his locker which he wore when his corns were playing up, so I opened the parcel and switched the shoes and neatly re-wrapped the package. When Lay returned to the office, I told him a parcel had been delivered for him. "That be my new shoe" said he, (He didn't use plural words). He opened the parcel and raced straight to the phone and called Buckley's." What the bloody hell you doing" he said, "I order new shoe and you send me old shoe". "There must be some mistake "said they. "We'll send our man back to sort it out." In the meantime, I managed to switch the shoes again. The Buckley's man arrived and opened the parcel to disclose the new shoes. Lay exclaimed "some bastard playing joke on me".
 Peter Telfer, Relieving Staff. Country town. 6 o'clock closing, 1950's – Peter was drinking in a country pub after hours when he had a premonition that the police flying squad had arrived, so he raced upstairs, went into a bedroom and climbed into bed. The cops duly came into the room and pulled back the blanket. "Do you usually go to bed in your suit and shoes and socks" they asked. "It is one of my idiosyncrasies" he replied.
Barney Woods, Manager at Coburg – Also, you may have heard of Barney Woods who was Manager at Coburg in the 1950's. He was famous for his exacting interpretation of the Instruction Book For, example the Instruction Book stated that when processing a payment, the signature on the withdrawal form had to be carefully compared with that in the register. Barney did this religiously when his wife was withdrawing money. If she signed M.J. and the signature in the register was Mary J, he would go back into the residence and get her to sign again. Jack Ryan was on the staff at Coburg for some years and would regularly take the Mickey out of Barney. I am sure he would have many stories about Barney.

Barry Gust recalls this story:
A well known and long serving member of the relieving staff was part way through a relief at a branch in the far west of Victoria .  After leaving the branch on a Friday , he headed in an easterly direction to spend the weekend in a bigger country town. It was summer, very hot with windows down as he tossed the already perused day's newspaper out the passenger side window whilst driving.
On reaching his destination and looking for the bank keys on the passenger seat he realized what had happened, with feelings of dread concerning the explanations to the bank hierarchy!
Heading back many kilometers in the direction he had recently travelled, with eyes searching paddocks for any sign of newspaper , he finally spotted paper roughly in the area he  favoured and could not believe his luck when the missing keys were there as well.  Talk about the luck of the devil!! 
Wayne Sinclair recalls a party at his flat in Hawthorn:
Readie was sitting on a bank stool that I had acquired, holding his beer and telling a story, when he fell asleep mid sentence. He stayed in the exact position for about an hour. He then awoke, continuing his story just where he had left off.   Not a drop of beer was spilled.
Terry Martin recalls a strange bank robbery at his branch and provides the following clipping from the Herald to back it up:
In May 1981 I was the Accountant at Wattle Park Branch. Late in the day we were the victims of an armed robbery. What is unique about this robbery is that the stolen funds (less about $300) were returned to Bank with a letter of apology. They were put through the front door of 31 Bourke Street East Branch.
 People sometimes give me disbelieving looks when I tell the story. But I have the proof.
I cut out the report from the front page of the Melbourne Herald dated 26/5/81, and I still have it.
 No one was ever charged, so we do not know the full story behind it.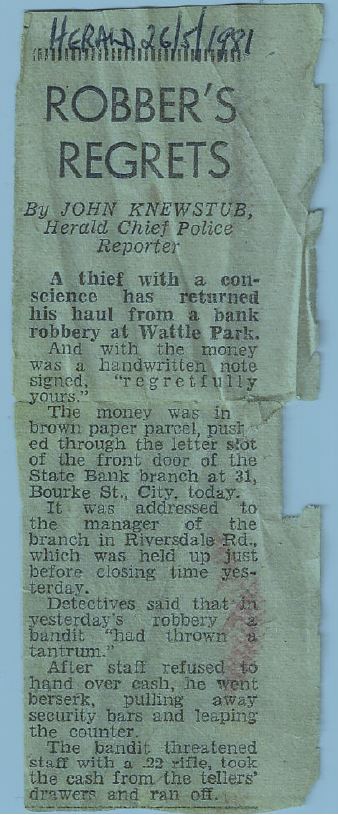 Peter Wynd recalls a few tales of his bank colleagues:
A well known Bank identity had been at a "do" in the city and was driving home along Dandenong Road, where he stopped to relieve himself behind a tree. When he'd finished he saw his tram approaching. He thought "how lucky's that" and got on.
Next morning he found his car missing so reported its theft to the police.
Later that morning he received a phone call from the police advising him that they'd found it – where he'd left it
Ian Reade – Peter offered to sell Readie a raffle ticket, with one of the prizes being a print of the beloved Essendon F.C. change rooms with all of the legends in it. Quick as a flash he retorted "Will they all fit?"
Ian Reade – Readie and Peter Wynd were taking some interstate guests for a Sunday drive to The Mornington Peninsular back in the early 70's. In those days the Nepean Highway from Mordialloc to Frankston, oddly had many sections with three lanes.
One of our friends asked what the middle lane was for. As quick as a flash Readie said "head-ons".
Ian Reade – In the early 90's several of Readie, Peter and a few friends were enjoying a dinner at a pub in North Melbourne. They ordered another bottle of white, which of course they didn't need. It was off. There were several comments to that affect around the table but Readie's topped them all – "I want to know how they got the cat to sit on the bottle".
Steve Roberts – At Stork's Farewell last year, his two girls Katie and Laura revealed that, when they were very young, he'd told them that the names that they had were only until they were 10, after that they had to choose their own names. Both were very unhappy as they liked the names that they had; Just one of Stork's many cleaver tricks! Don't mention Harry Climber!
Bankcards Department – In the early days of Bankcards, businesses would sometimes be referred to Bankcards Dept if a customer's purchase was declined for some reason. Over-limits would be "handed off" to Credit Dept, and delinquencies would go to Collections.
One Credit Dept colleague, recalls his conversation with a male customer who had his purchase declined because his account was over its limit. The customer couldn't understand it as he'd only used the card occasionally.
The staff member could see that there were two cards on the account. He politely asked the embarrassed customer if there is another card on the account. There was a short silence, then the customer said "right, she's dead".
Julian Moylan tells us of a prank ten years in the making:
For many years Peter (Dobie) Willis was a well known and popular figure in the Bank football and cricket clubs. Perhaps it could be said of him, he did not take himself or life to seriously.
In the mid seventies he was working at 005-45 Swanston Street branch.
One afternoon on late shift Dobie and I were approached by Manny the bank messenger. Manny had found a beautiful leather bound book of Australian history which a customer had left behind.
Whist we were flicking through the pages admiring the book our senior accountant, Ian(Ashy)Ashman came over and asked "what are you three up to, have you no work to do!"
Since the book appeared rather expensive Ashy suggested we wrap it in brown paper and he would lock it away in his Accountant's cupboard, rather than throw it in with other lost property.
This was duly done and Ashy advised us that if the book ever went missing he would know who to come to for an explanation.
Some months or even more went by without anyone claiming the book and it remained locked securely in the Accountant's cupboard under his eagle eye.
However one day he noticed that the brown paper was torn and he could see the colour pink underneath. Upon investigation he discovered the book was missing and in its place was a stack of schedules the Refer Clerk used to record the "stops and alerts"
Subsequently Dobie and I were marched into the Manager's office (Bob McEwan) and were interrogated by Mr McEwan and Ashy.
Both Dobie and I assured them we had not stolen the book and were sent from the office with somewhat of a cloud over our heads. To make matters worse as we were walking to the door Dobie said to me "you best get the book off the bookshelves at home". Mr McEwan immediately called us back and grilled us again. He finally accepted Dobie's explanation that he was only joking, but then came a berating that this matter was not to be treated lightly.
Time marched on, Mr McEwan retired, Ashy, Dobie and I were all promoted to other branches and the whereabouts of the book was long forgotten.
However in 1985 I found myself back at 005 in the position of Senior Accountant. Sometime later we had a spring clean in the strongroom, all shelves and cupboards were tidied up in the process. A young staff member came to me with a brown paper parcel in their hand and said they had found it secreted away at the back of a little used cupboard in the far corner of the strong room.
My memory came back instantly and I immediately rang Dobie. When he answered the phone and recognised me his first comment was "you found it"
We both had a laugh about it but were sorry that we could not share the outcome with both Ashy and Mr. McEwan as they were deceased.
It may have been ten years but Dobie got his laugh!
In respect for Mr. McEwan and Ian Ashman the book was left locked in the Accountant's cupboard.
As an aside I later ran into to Dobie after he left the Bank. At the time I was an Area Manager for the CBA and was at Whittlesea branch on a visit with the Manager, Gary Tunnecliffe, another cricket club team mate. He said you passed Dobie Willis on the way here today ,he is in the Whittlesea cemetery….working for the Cemetery Trust. So on my return I called in and found him in good spirits and enjoying life after the Bank. Subsequent to that visit I would pop in from time to time and he later said he was selling up and moving to Queensland.
A funnier man you would never meet. One of the Bank's great characters.
Tiny Ellis – Eulogy by Ian Reade at Tiny Ellis" funeral.
I met Tiny at Olympic Park which is where the Bank's footy side trained in 1957. After a couple of nights I was told to join in on a drink after training.
The venue was Checker Hughes pub about 1 km from the ground and as the coach finished training about 5.30 so that, he thought, you couldn't get to the pub before 6 0 clock closing. He was wrong but you had to move quickly. Only the fastest and fittest made it.
My first time I thought I was in the leading group going in to the pub, but there was Tiny at the bar shoes undone, probably only one leg in his trousers, shirt half on, jock strap around his neck and on his third pot. I had met Tiny!
It didn't take long before I realized that he could play a bit, he was a beautiful high mark, the best in the comp (A grade), and he knew how to palm the ball. I won't talk about his kicking but he did kick a few out of bounds from the goal square. He was a left footer!
He won the B & F, gained interstate selection and was invited to train with Melbourne next year.
He kicked 4 goals in a practice game, but they advised him he was too old; any way I couldn't imagine him hitting it off with Norm Smith. They had different ideas about training and the M C G was further away from Checker Hughes pub.
One of Tiny's attributes was that he could sing, once he almost got me killed and once he might have saved my life.
After playing footy on Saturday, if it was a hot day we might have a couple of beers
A few of us were in, I think, The Domain Hotel in St Kilda Road; it's gone now. They had a floor show upstairs with a band and a beautiful girl singer. It must have been a very hot day because we were still there at half past.
Some time in the night I don't know how but Tiny took over the microphone from the girl singer and he sang "Too young"
He got as much applause as the girl singer and after a quick chat with the band came back to his seat and suggested that I should go up and chat up the young lady, which I did.
Tiny told me later he knew she was married to the Gorilla playing the piano. I got back in through the back door.
It was years later, this century even, and we had met for lunch in a pub in Oakleigh aptly called the blood house.
We had been there a while when 4 or 5 rough looking buggers walked in, they looked like Garbo s or slaughter men just knocked off work.
They kept staring at us and were obviously talking about us and seemed to take exception to us being in their pub dressed as we were, clean clothes and teeth, one of them with very heavy Irish accent was really menacing.
Tiny and the Irishman were up at the bar at the same time and Voices were raised and a bit of pointing going on so I turned around to plan my escape route, turned back and Tiny had his hands on the Irishman's shoulders. I thought good he is going to strangle the bastard. He didn't; he started singing "Galway Bay". The Irishman joined in and over the next hour, arms around each other they sang every Irish song ever written and a few that were never written. We forgot lunch!
Probably more than anything else Tiny will be remembered for his personality and humour.
He was the funniest bugger I have known. He didn't have to tell jokes; he was just funny with quick retorts and repartee. He could make something funny that wasn't.
He could see the humorous side of any subject in any company. Be in the same room for 2 minutes and he would have the tears running down your legs.
A lot of people are going to miss him.
The Great Elizabeth Street flood 1972
 Many people have various recollections of the afternoon when Elizabeth St flooded. The most regular stories come from the group of State Bankers having a knock off drink in The London.
 It soon became apparent that something odd was happening outside the hotel; the street was awash, with water almost covering some cars, and a Volkswagen floating southward. Those inside were marooned, and looked like being so for some time – much to their disappointment. Trains and trams were halted.
 As legend has it, the slightly effeminate barman, Herbie, was running around excitedly calling out "throw me a buoy, throw me a buoy".
 Another prominent story centres on a well known regular at knock off drinks who was to go out to dinner and a show with his wife and some friends that night. He rang his wife from the pub phone to say that he couldn't get home as the street was flooded. In no uncertain terms she strongly expressed her disbelief in his story, and fair enough, the rain hadn't reached Caulfield at that time.
 When they were finally able to escape the pub, this gentleman and a friend squelched up Bourke St to meet their wives for dinner and a show. They were in no condition for either.
Neil Cowie recalls an incident during the flood of 1972
Following on from the floods in 1972 I was working at Central branch. The water was pouring down Little Bourke Street and a man tried to cross at the corner of Swanston Street. He was swept under a car wheel and three men formed a human chain from the E. S. & A doorway to drag him from under the car as he could have drowned. The branch was also inundated with water going through the branch down the stairs into the strongroom with a fair bit of cleaning up required.
Neil Cowie – Central Branch
Another incident at Central was when an Asian man entered the branch and tried to cash a cheque payable to CUB and drawn by a local hotel. The hotel was contacted and they asked us to try and delay the transaction. The Bloke got nervous and left the branch so I was asked to follow him. As I left the branch the police with the hotel owners were across the street, The bloke broke into a run and I followed with the police. It would have been quite a sight with the bloke running, I was  running after him with the police following me. He was eventually caught by the police and brought back to the branch to be interviewed. It turned out that he worked at the hotel and had found the cheque on the floor. He was an illegal immigrant and we were informed he was deported.
Tony Power – 019 Treasury Place
In the late 1960s, while attached to the 019-Treasury Place branch, we had a staff of just three, including the manager Steve Mason.
It was in this branch we encountered a wide cross section of customers, including public servants and politicians. There was even the odd political wife among the daily throng.
One of these revered customers was the esteemed " Lady Bolte", then-wife of Premier Sir Henry Bolte.
Lady Bolte had a number 1 savings account while her husband administered the number 1 cheque account.
Such was her place in society that Lady Bolte managed to do her banking before opening hours. Her requests were always accommodated, and she was always attended by the highest-ranking available staff member.
But then came the day that Steve Mason was on annual leave and Syd Fyffe was the relieving manager.
Syd arrived to work one morning and decided on a leisurely start to the day.
In a ritual reminiscent of a typical public servant, he opened his newspaper on arrival and settled in for an egg and lettuce sandwich. I told him to be careful as Lady Bolte was prone to turn up without warning.
Syd was nonplussed, but gestured gruffly, swatting the warning away as swiftly as he would an errant fly.
Moments later, there she was.
Lady Bolte, standing at the front door. Opening the door I invited her inside and spoke in a tone loud enough for Sydto understand the gravity of the situation.
Ushering her inside to the manager's office, I hoped my girth would prevent her spying the contents of Syd's desk – including a half chewed egg and lettuce delight.
Twigging that this was the real deal, Syd's eyes bulged, bigger than Marty Feldman's and resembling fractured jaffas.
With one swift stroke from a cupped left arm, Syd confidently removed the table contents before standing to attention for a formal introduction.
Ignoring the remnants of Syd's morning breakfast strewn across the floor, charming Lady Bolte chatted for some minutes before her transactions were completed.
Then, Syd gallantly escorted her to the front door.
On his return to the area behind the front counter I said, 'How did you fire Syd?'
His response was simple: 'you bastard'. He always did have a good sense of humour.
Turns out the pair were neighbors. Lady Bolte had an apartment in St Kilda Road and Syd a residence in South Melbourne.
The moral of the story?  Always listen to the people on the front line. Like lift drivers, they know what's going on.
Neil Williams; My State Bank Story
Neil tells us about his experiences and people he's met in the bank through his career in branches, Marketing Department and Printing and Stationery. Neil's story goes over several pages so we've put it up as a link. Click here to read Neil's story.